President & CEO
Tampa Bay Black Business Investment Corporation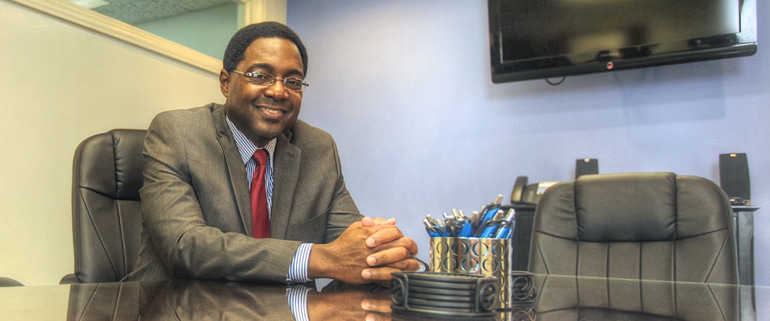 Albert Lee started his banking career more than 20 years ago after graduating from Florida A&M University with a degree in Business Economics. He was recruited by a regional bank in Tampa where he received training in all aspects of banking, including: commercial credit analysis, underwriting, commercial lending, commercial real estate lending, consumer lending and retail bank management. In the late nineties, Mr. Lee partnered with a former client to start a local dry cleaning chain from ground up. The business ultimately grew to include four store locations, a processing plant, multiple wholesale accounts and over 15 employees before being sold to local competitors.
In 2002, Mr. Lee was hired by the University of South Florida's Small Business Development Center (SBDC) as the area manager for Pinellas County. During his tenure as a consultant with the SBDC, he received his certification as a business analyst and consulted with hundreds of small business owners and aspiring entrepreneurs. He then moved on to serve a large national bank as the state SBA Loan Manager and eventually assumed the position of Vice President and Senior Business Banker. Mr. Lee has also held the positions of Senior Vice President and Director of Business & Retail Banking positions at a local community bank.
Today, Mr. Lee is the President and CEO of Tampa Bay Black Business Investment Corporation (BBIC), a 25-year-old U.S. Treasury certified Community Development Financial Institution (CDFI) that provides loans to small businesses not meeting the lending requirements of conventional banks. The Tampa Bay BBIC has been responsible for funding millions of dollars in loans to small businesses and offers entrepreneurs direct loans, guaranteed loans, technical assistance and hands-on mentoring and consultation. He has loaned, underwritten and presented millions of dollars in commercial, commercial real estate and retail loan transactions during his career.
Mr. Lee is a past-chairman of the CDC of Tampa, Inc., one of the most active and successful community development corporations in the Tampa Bay area. He continues as a board member of CDC of Tampa and helps coordinate the organizations financing and real estate development activities.
Previously, he also served as Hillsborough County Human Relations Board Vice-Chairman, Hillsborough County Community Action Board Treasurer, United Way Allocation Committee Member, 1991 Super Bowl Task Force Community Relations Committee Member, Bible Based Fellowship Credit Union Advisory Board Member, Alonso High School Business & Technology Advisory Board Member, Community Foundation Special Advisory Committee Member, Literacy Volunteers of America Board Member and Florida Orchestra Audience Development Committee Member.